What is this NuVet stuff your requiring? 
~Or~
Why I will never be with out NuVet again! 
By Carol Keen
This page contains information on NuVet Plus, why I require it, what it does, and why I will NEVER be with out it again. 
This may well be the single most important product you have ever used to keep your furry ones healthy for life. 
I love my babies and their health is a top priority! That is why NuVet Plus immune system builder is required as part of your pet's Health Guarantee.  All furry ones in my care are already enjoying their NuVet daily and will be looking forward to it! This just lets you give it to them as an extra treat once they are living at your home. 
Hundreds of thousands of dogs and cats are taking NuVet to protect against most ailments (from back yard pesticides, reactions to flea and tick treatments, pet food allergies and hormones, toxic formaldehyde in furniture and carpeting, ailments transmitted from dog parks and the vet's office, etc), while maintaining a beautiful skin and coat. 
However, this document is for me to share some with you about how NuVet works to help puppies. From the time they are born, baby mammals are getting their immunity from their Mother's milk. Your pup is receiving most of his immunity from his Mom through the milk. That starts falling off when they start weaning. Their own bodies do not have a complexly independent immune system until they are 16 weeks old. Once weaned they need help to build their own immunity to protect them in their new environment. (See the image at the bottom of this page.) NuVet was specifically created and formulated with potent antioxidants to assist your pup during this trying period and for years to come.  
This is not "just a vitamin". I've used more brands of those with lack-luster results than I care to count. NuVet Plus is an immune system builder with a precise balance of vitamins, minerals, omega fatty acids, amino acids and high-potency antioxidants. That's why it works so well through all three stages of a dog's life. It is also a human grade product, meaning that it is safe for people to eat (and some do) so you know it is completely safe for them!
But why would you use an immune system builder or booster? 
Moving to a new home is stressful! Learning new environments are typically stressful. Vaccines are horribly stressful to the body for both animals and humans of any age. LIFE wears down the body's immune system. Without support you leave the door wide open for break downs that could be reduced, or avoided all together. Research had taught us that stopping free radicals for humans is very important. With the number of people who have told me personally they lost their pet(s) to cancer, why wouldn't you do everything in your power to keep an immune system boosted and avoid that if at all possible? It is probably safe for me to say that most major illnesses in pets and humans stem from an underlying immune system compromise or degradation. 
For younger dogs (under 2 years old) NuVet strengthens their immune system, while building and strengthening the cardiovascular, skeletal and nerve systems. 
For dogs in their prime (age 2-8) NuVet improves the luster of their skin and coat while protecting against allergies, skin and coat problems, staining from tears, digestive problems, etc. 
For older dogs (over 8 years old) NuVet helps protect against, tumors, premature aging, cataracts, heart conditions, diabetes and many types of cancer, while extending the life and improving the vitality of many dogs. 
I highly recommend NuVet Plus to keep your pet on the path to perfect health! It's not available in stores, and is only available to the general public with an order code from an authorized professional. (Yes, that would be me!) You may order directly from the manufacturer (at up to 50% off what most veterinarians charge) by calling 800-474-7044 and using Order Code: 21074, or ordering online at www.nuvet.com/21074. You can also save an additional 15% and assure you never run out of NuVet by choosing the "AutoShip" option at check out.  
Please order prior to picking up your baby. I use the powder, because it is twice as strong. It's easy to put over any kind of food, which allows the pups to take in the nutrients in NuVet with each bite of food they eat. Optionally, puppies can eat 1/2 a tablet (wafer) per day. It's also safe to use a whole one if a half tablet is difficult for you. 
Adults eat a whole tablet each day, or use one scoop of power over their food. There is no risk of overdosing, ever, just healthy happy babies. The results I have seen in my own babies are so amazing I personally NEVER plan to be without NuVet again. I wish I had known about this product many years ago, that would have ended risk of sugar crashes and eased the stress of going to a Forever Home way back then. This stuff is *that* good! Coat, nails, teeth, stamina and vigor are all markedly improved and I thought things were doing good before NuVet. I had to see it to fully understand it! 
As an added note, I wish to say that when I first saw someone requiring this product I didn't understand it. I thought that there was a catch, or a gimmick, or that they were getting something major off of "pushing" it. I was SO VERY WRONG, and that is one thing I wish I could go back and change. I'm sad about the years that I didn't give NuVet a second thought, but I will never make that mistake again! The main concern I have is that new owners keep their babies on NuVet because this product is able to do what it claims and more. 
NuVet is part of my Health Guarantee because:
Why NuVet Plus is a part of our guarantee – 
As a responsible breeder, my highest priority is the health of the dogs I breed. Part of that responsibility includes doing everything possible to assure their well being after they go to a new home.  
While all quality dog foods will provide everything needed to sustain life, virtually all of them are cooked during the manufacturing process. The heat from cooking causes much of the nutrients to be lost during the process. NuVet Plus is cold processed allowing all of the benefits of its rich nutrients to be retained. This gives your pet an extra layer of protection, especially during the most critical first year of life. 
Additionally, when puppies nurse, they rely on their mother's colostrum (highly nutritious milk produced right after birth) for the antibodies they need to fight infection. However, the maternal antibodies' effectiveness declines as the puppy's immune system begins to mature. By 8 weeks, your puppy's immune system is at a vulnerable point and will soon be challenged on multiple fronts.
When a puppy is moved away from its mother and siblings to live with its new family, the immune system is weakened by the stress of adoption and exposure to bacteria and viruses in its new home. These are pathogens for which the puppy's body has not yet developed antibodies, and it is widely recognized that the immune system is less effective in times of stress. Starting NuVet Plus now is important to helping your puppy grow into a healthy adult.
The vaccine series is also started during this time period. Vaccines are only effective if the immune system can respond properly. If the immune system is distracted by combating an actual disease processor and it does not receive the nutrients required to keep it strong during times of stress, the health of the puppy is at risk. The best way to prevent illness during this critical time is to provide the nutritional support required for proper immune system function. 
Some About NuVet Plus –
NuVet Plus is a synergistic combination of antioxidants, vitamins, and minerals known to boost immune system function. All of NuVet Labs' ingredients are sourced in the United States, manufactured in a human-grade U.S. FDA registered pharmaceutical laboratory, and cold processed to maximize the potency of the nutrients. NuVet Labs has been in business since 1997 and has never had a product recall.  By including NuVet Plus® into your puppy's daily diet, you can be confident that you are providing the nutrients required for optimal immune system performance.  
Additional information may be found on the NuVet Labs web site www.nuvet.com/21074.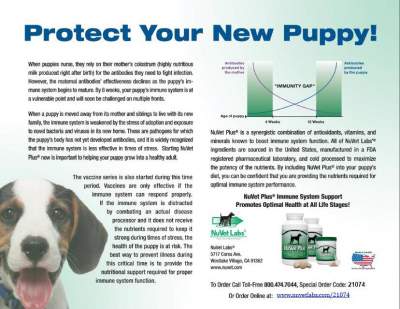 Thanks for reading and if you have questions, just ask!  
Keen Pomeranians