Keen Pomeranians
Hello, welcome to our cozy corner of exotically colored Pomeranians!
We raise amazing Pomeranians and specialize in rare, unique colors of Poms. From stunning blue-eyed merles to DNA verified wolf sables we have a broad color pallet that adds extra flair to our breeding program.
We hope that you enjoy browsing our site, and perhaps even fall in love with one of our Pomeranian Puppies. They come from our heart to yours!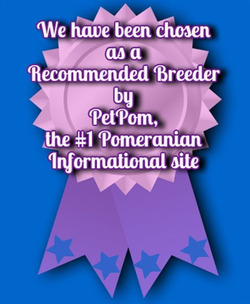 Pet Pom is a large amazing site devoted to Pomeranian breed. We are extremely honored and pleased that Keen Pomeranians that was chosen for Mississippi/Alabama. Due to other circumstances, we now range between the two states.